'BaSeTaLK' project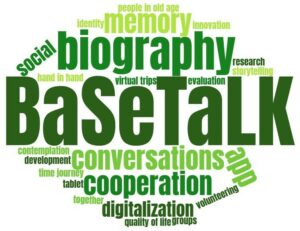 BaSeTaLK - Biography work in senior citizen facilities with tablet support to improve the quality of life and communication - was a collaborative project of the Catholic University of Applied Sciences Mainz (KH) and the Ostbayerische Technische Hochschule Regensburg (OTH), funded by the BMBF. Read more
BaSeTaLK-App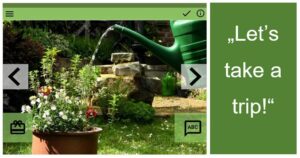 With the app programmed by BaSeTaLK, the residents of nursing homes make virtual trips to places such as the garden, the cinema or the library. There, they are invited to exchange ideas with each other and to ask questions about their life stories. The app was developed in a collaborative process with the focus groups, programmed by the technical staff and published as open source software. Read more
Idea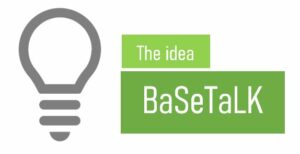 Read more about the development of the BaSeTaLK project and the project leaders' idea to create an app for biography work in nursing and senior citizen institutions.  Read more
We are looking for support for the continuation of our app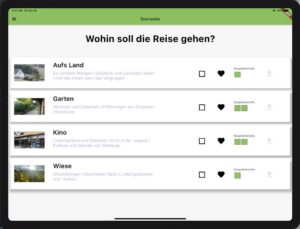 The BaSeTaLK app arised from a third-party funded research project. This project ended at the end of april 2023. In order to be able to ensure the implementation and use of the app beyond that, we rely on the support and commitment of others. Read more
Project team in Mainz
A project meeting took place at the Catholic University of Applied Sciences Mainz on 17.10.2022. Due to contact restrictions in the context of the pandemic, this was the first face-to-face meeting attended by the entire BaSeTaLK team. The meeting was held together with the team of the research project PeerPAL. PeerPAL is a joint project, which is also led by Prof. Sabine Corsten and Prof. Norina Lauer. The project aims to develop and evaluate an accessible digital social network for people with aphasia. Through the use of the network and the associated opportunity for digital exchange, the quality of life, well-being and social inclusion of people with aphasia should be improved.
The two teams used the meeting to share common challenges in the research process and discuss future research ideas.
BaSeTaLK wins the audience award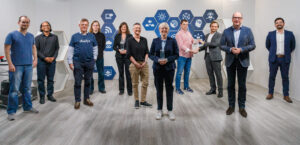 On 24.03.2022, the Digital Health Award 2022 was presented by Novartis. The prize is intended to honour and promote innovative ideas for health care. In this context, the BaSeTaLK research project was awarded the audience prize. The first prize honours "Halitus", a portable, non-invasive and cost-effective method for instant diagnosis using biomarkers measured in the breathing air. The second prize was awarded to the project "Pink!", which supports those affected by breast cancer with its website, app and online courses through individualised coaching programmes and education. In addition, a special prize "Participation through digitalisation" was awarded to the team of the language learning app "EiS".
The BaSeTaLK team was very happy to have won the audience award and thanked everyone who cheered, supported and voted!
Link to BaSeTaLK video from the Novartis 2022 Digital Health Award ceremony:: BaSeTaLK_DGP_2022 :: Medien :: ViMP OTH Regensburg (oth-regensburg.de)